Hand Built In Britain
Our lights are built by hand in our factory in Aylesbury. With decades of experience, our skilled technicians can not only build and test the lights but they can service and repair them too. Giving you peace of mind.
Hand made in Great Britain

Try your light for 30 days

Free collection if you're not 100% satisfied
---
Why invest in British ingenuity?
Tried and tested

Our technicians hand build every Serious Light that leaves our factory. Each light is carefully assembled to your specifications, and receives a full inspection and test before being packaged and sent off to its new home.

Our lights are designed to work straight out of the box. We believe that your time should be spent enjoying your light rather than assembling it, so we make sure that our lights are as simple to set up as possible. Just plug in and turn on.

Capable hands

We are proud to be experts in light. Our technicians are highly skilled, some of them have been assembling our lights for nearly 20 years, so it's fair to say they're pretty serious about light.

Serious Lights are built to last, we are so confident in this that we offer a 5 year warranty on all of our light ranges. We hope that nothing goes wrong, but if it does and your light is within warranty, we will collect it, repair it, and return it to you at no cost. We're proud to have the skills and capabilities to keep your life illuminated for as long as you need.

Built to your needs

Our in-house approach to the manufacturing and building of our lights means that we can develop and craft your light to exactly your specifications.

Do you prefer a colder or warmer colour temperature? Or perhaps you require a light for a specific hobby that you'd like us to design for you? We can work with you to craft your ideal lighting experience, and ensure you have the best light for your life. We also have a wide range of colours and finishes available to make sure your light blends in perfectly with your home décor.
---
The Serious Difference
30 Day Risk-Free Trial

Free UK Mainland Collection

Hand-Built in Great Britain

Made in Aylesbury

Bring Daylight Indoors

Daylight Wavelength Technology™

5 Year Warranty

Peace of Mind
Customer Reviews
For me it is a pleasure to have one of your lights at last. The light is well made and from Great Britain.

Robert Rickett, Dereham

Both lamps now received, installed and in use. The High Definition is a well constructed and of excellent quality, a big plus is they are assembled in the UK.

Mr. Woods, Oxfordshire

You all deserve a pat on the back for restoring my faith in British manufacturing industry. Long may you last.

Mrs. Ives, Northumberland
---
Our Most Popular Reading Lights
High Definition Floor Light
Order Now
Perfect for you if...
You're an avid reader
You enjoy a hobby with fine detail
You have an eye condition
You want the best possible light
---
Suitable For
Reading books
Reading larger publications (magazines, newspapers)
Hobbies involving colour (artwork, needlework)
Hobbies requiring wide beam (music, jigsaws)
Eye conditions(AMD, Cataracts, Glaucoma)
Order Now
High Definition Table Light
Order Now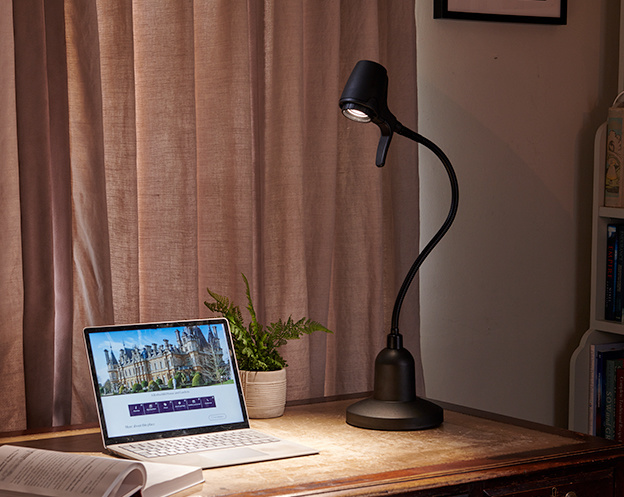 Key Features
Cutting edge LED technology
Closest to natural daylight
Adjustable beam width
Intuitive dimming function
Even small print is crisp and clear
---
Suitable For
Reading books
Reading larger publications (magazines, newspapers)
Hobbies involving colour (artwork, needlework)
Hobbies requiring wide beam (music, jigsaws)
Eye conditions(AMD, Cataracts, Glaucoma)
Order Now
Alex Floor Light
Order Now
Key Features
Energy efficient LED
Close to natural daylight
Wide beam pattern
Fully dimmable
Bright, white light beam
---
Suitable For
Reading books
Reading larger publications (magazines, newspapers)
Hobbies requiring wide beam (music, jigsaws)
Order Now
---