Wall Mounted Reading Lights
No floor or table space? Our range of wall mounted reading lights project high intensity colour corrected beam onto your reading material. Mount to the wall with a bracket and position the flexible arm for the ultimate reading experience.
Now you can spread the cost of your light with Klarna. Pay in 30 days, or split the cost into 3 instalments.
---
Our Three Best Wall Mounted Reading Lights
70% choose this light
High Definition Wall Light
Order Now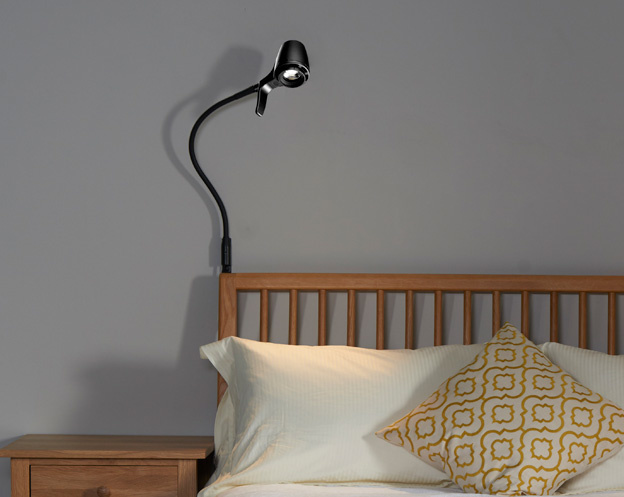 Key Features
Cutting edge LED Technology
Closet to natural daylight
Adjustable beam width
Even small print is crisp and clear
---
Suitable For
Reading books, magazines, newspapers, sheet music and more
Hobbies involving colour and detail, including painting, needlecrafts and puzzles
Eye conditions, such as AMD, Cataracts and Glaucoma
Highly directional night-time reading
Bedside reading without taking up nightstand space
---
Order Now
Alex Wall Light
Order Now
Key Features
High performance, low energy
State of the art LED technology
Long-life, high intensity beam
Cool to the touch
Close to natural daylight
---
Suitable For
Reading Books
Reading larger publications (magazines, newspapers)
Hobbies involving colour (artwork, needlework)
Hobbies requiring wide beam (music, jigsaws)
Order Now
Classic Wall Light
Order Now
Key Features
Our original light model
Deliberately narrow beam
Ideal for night-time reading
Light focussed on to your page
Uses just 3W of energy
---
Suitable For
Order Now
---
Why choose a Serious Wall Mounted Reading Light?
A Serious wall light will:

Maximise your ability to see detail and colours, employing specialist Daylight Wavelength Technology™.

Minimise the risk of damage to your eyes, eradicating the harmful blue-light spike commonly found in standard LEDs.

Optimise your posture and well-being by stopping you from unconsciously straining when you can't see clearly.

Your Sight is our focus

We believe light transforms sight. Since inventing the first Serious Light 35 years ago, for his mum who was struggling to see, our founder Alex has been pioneering research into sight and light.

We then developed a range of wall lights after repeated calls for a wall-mounted solution, ideal for the spaces where you can't fit a floor or table light.

A light wherever you need it

If you don't have space for a floor or table light in your reading area, the Serious wall mounted reading light is the ideal solution. Simply mount to the wall with the included bracket, hiding the cable in a stud wall, and your reading light is ready to go.

Spread the Cost with Klarna

Now you can spread the cost of your order. With Klarna, you can choose to split the payment into three easily manageable interest-free instalments or take advantage of the option to pay in full after 30 days.

Pay in a way that suits you and enjoy a full 30 day risk-free trial to make sure that your light is the perfect match for you and your eyes. To read the full terms and conditions and learn more about using Klarna, click here.
---
The Serious Difference
30 Day Risk-Free Trial

Free UK Mainland Collection

Hand-Built in Great Britain

Made in Aylesbury

Bring Daylight Indoors

Daylight Wavelength Technology™

5 Year Warranty

Peace of Mind
Customer Reviews
Really well made lamp which is unobtrusive near my armchair and gives wonderful quality light.

Mrs Cockroft, Ripon

Just a note to say how wonderful it is to be able to read even small print in catalogues

Mrs Marshall, Argyll

One of the best purchases I've ever made. Excellent light and very good service.

Mr Lycett, London
---