Over 500 Opticians Recommend Serious Lights
As well as half a million light owners across the world, over 500 independent opticians choose to recommend our lights for the benefits they provide to their patients.
---
Hear from three highly qualified opticians
Tracey Taylor - BSc (Hons) MCOptom

"A lot of people do not understand the importance of good lighting. I can give my patients the best possible prescription, but unless the lighting is right, they won't get the best vision possible.

We have recommended Serious Readers for many years now. I've got them in every test room so that I can demonstrate them to the patients. Once I turn the light on, they can really see the difference."

Brian Tompkins - BSc (Hons) FCOptom FBCLA

"It's well known that as you go from 20 to 60, you need three times more light. Unfortunately, most people don't know that. If patients don't take the best advantage of lighting, they won't get the best image.

It's out of the box, on to the table and straight on to their book. The lighting is directed superbly on to the page, so the whole thing is an excellent way from start to finish for patients to complete best reading task they can. "

Debra Grant - BSc (Hons) MCOptom

"Without light, there is no vision. As your eye gets older, it is less efficient at processing light. Light from most standard lamps does not hit the page you're looking at.

We like Serious Lights because they're very task specific, when you turn them on, you don't get a flood of light everywhere and it's very directional."
---
The Serious Difference
30 Day Risk-Free Trial

Free UK Mainland Collection

Hand-Built in Great Britain

Made in Aylesbury

Bring Daylight Indoors

Daylight Wavelength Technology™

5 Year Warranty

Peace of Mind
Customer Reviews
Several years ago it was suggested I get this light by my optician. I'm only sorry I waited so long.

Mrs Quine, Isle of Man

Very pleased with quick and efficient service and light - does everything my optician said it would.

Mrs Spooner, St Neots

I am so pleased my optician recommended your lamp. It has made a big difference to my reading life!

Mrs Robinson, Coventry
---
Our Best Reading Lights recommended by Opticians
Key Features
Cutting edge LED technology
Closest to natural daylight
Adjustable beam width
Intuitive dimming function
Even small print is crisp and clear
---
Suitable For
Reading books
Reading larger publications (magazines, newspapers)
Hobbies involving colour (artwork, needlework)
Hobbies requiring wide beam (music, jigsaws)
Eye conditions(AMD, Cataracts, Glaucoma)
Order Now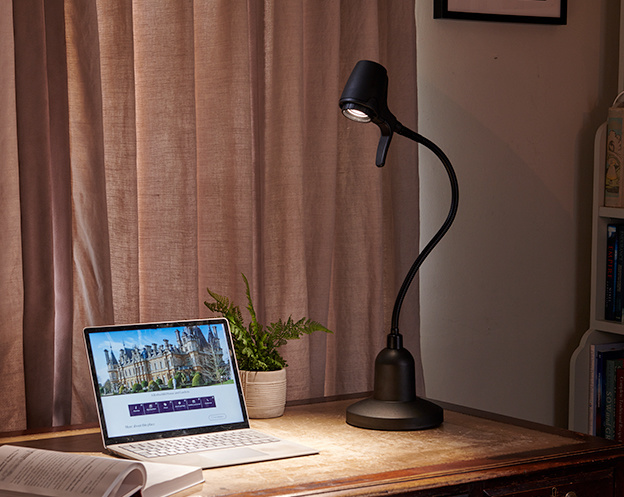 Key Features
Cutting edge LED technology
Closest to natural daylight
Adjustable beam width
Intuitive dimming function
Even small print is crisp and clear
---
Suitable For
Reading books
Reading larger publications (magazines, newspapers)
Hobbies involving colour (artwork, needlework)
Hobbies requiring wide beam (music, jigsaws)
Eye conditions(AMD, Cataracts, Glaucoma)
Order Now
Key Features
Energy efficient LED
Close to natural daylight
Wide beam pattern
Fully dimmable
Bright, white light beam
---
Suitable For
Reading books
Reading larger publications (magazines, newspapers)
Hobbies requiring wide beam (music, jigsaws)
Order Now
---