Don't miss out
Limited period offer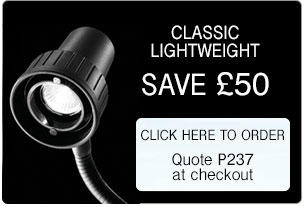 Light Matters
Do you sometimes find detail a little more difficult to see these days?

Perhaps colours don't seem as vibrant as before?

As our eyes age they crave more and better light. From forty, you will have begun to notice a marked deterioration in your visual clarity, which becomes increasingly frustrating with time.

By the age of sixty only about a third of the available light will be reaching the back of your eye as compared to your younger self. In addition, presbyopia or 'aging eye' is the loss of elasticity of the eye lens and makes focussing much tougher.

The natural aging process will not stop, so there seems little point in waiting to restore your lost vision.

Act now to get it back by shedding a better light.




Alex Pratt OBE
Founder


Light Matters

Do you sometimes find detail a little more difficult to see these days?

Perhaps colours don't seem as vibrant as before?

As our eyes age they crave more and better light. From forty, you will have begun to notice a marked deterioration in your visual clarity, which becomes increasingly frustrating with time.

By the age of sixty only about a third of the available light will be reaching the back of your eye as compared to your younger self. In addition, presbyopia or 'aging eye' is the loss of elasticity of the eye lens and makes focussing much tougher.

The natural aging process will not stop, so there seems little point in waiting to restore your lost vision.

Act now to get it back by shedding a better light.


Alex Pratt OBE
Founder